AI-Driven Insights Into Every
Inbound Customer Conversation.
Conversation intelligence from KeyMetric provides deep, actionable insights into every inbound customer phone call and conversation to measure performance, identify missed opportunities, and better understand customer needs and intent.
Multi-language speech recognition automatically transcribes every call into text, allowing you to easily tag, score, search and benchmark one or hundreds of calls at a time.
✔

Record, transcribe, score, tag and analyze every customer call.

✔

Easily Search all calls at once for keywords, phrases and actions.

✔

Identify new and missed sales and revenue opportunities.

✔

Better understand customer behaviors, preferences and intent.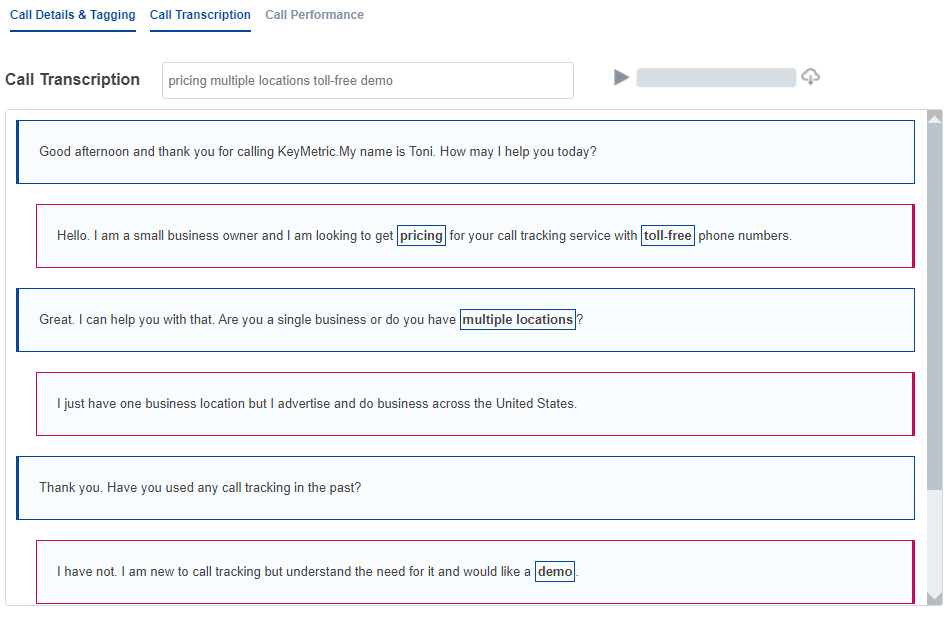 Stop Wasting Time & Money
Listening to Every Phone Call.
Listening to call recordings is teadious and time consuming. KeyMetric automatically does it for you in just seconds, and more importantly we can do it hundreds of calls at a time.
Easily identify topics and patterns and search 1 or multiple calls at a time for keywords and phrases such as "schedule an appointment" or "cancel" to pinpoint customer trends and behaviors.
 Book a Demo
 Get Started
✔
Identify areas where your business needs improvement.
✔
Enhance online help systems to reduce support call volumes.
✔
Improve employee training programs, sales scripts and frameworks.
✔
Fine-tune ad and keyword buys and boost conversion rates.
✔
Prioritize follow-up sales activity based on opportunity value.
✔
Boost conversions and sales while loweing customer attrition.
FAQ
What is Call & Conversation Intelligence?
Conversation intelligence, also known as conversation analytics, is the process of capturing, analyzing, and acting upon data from customer interactions in order to improve customer service and business operations. This typically involves using technology, such as speech recognition and natural language processing, to automatically transcribe, understand, and categorize customer interactions across various channels, such as phone calls, chat, and email.

The data is then analyzed to gain insights into customer behavior and intent, identify areas for improvement, and make better business decisions. This allows companies to improve customer experience, increase efficiency, and identify new opportunities for growth.
Is Conversation Intelligence included in my KeyMetric plan?
Yes. Unlike plans from other providers like Callrail or Marchex that charge you additional fees for conversation intelligence, all KeyMetric plans include conversation intelligence. There is no additional charge except for additional per-minute fees to process the audio-to-text transcriptions should you exceed your alloted plan minutes per month.
How accurate are the call transcriptions?
Although the accuracy of transcriptions depends on multiple factors such as background noise or caller accent, our transcriptions are generally +90% accurate. Because we record each participant on separate channels, our transcriptsion are more accurate than other solutions.
Can I Score and Tag my Phone Calls?
Yes. In addition to transcribing your call recordings into searchable content, with KeyMetric you can score each call, tag each call, and add call and/ or caller-specific notes, reminders and call-to-actions.