Reinvest in the Marketing Channels
Proven


to Generate the Most Calls & Opportunities.

83% of businesses blindly spend their marketing budget on campaigns and keywords that deliver the most traffic. Unfortunately those are rarely what generate the most phone calls, sales opportunities and revenue.

KeyMetric Call Tracking intelligently identifies which marketing channels and sources are generating high-value calls, leads and sales so you can generate up to 10X more value from every advertising dollar you spend.
Toll-Free & Local Call
Tracking & Attribution.
Instantly identify which advertising channels, campaigns and PPC keywords have the greatest impact in driving customers to call and engage your business.
✔
Real-time standard and custom dashboards and reports.
✔
Gain valuable attribution data for every inbound call and lead.
✔
Maximize digital, mobile and offline advertising outcomes.
Real-Time Call Recording
Mapping, Scoring & Tagging.
Record, score, map and tag every inbound phone call. Categorize and trend calls by scores, outcomes and next-action summaries to maximize sales and revenue opportunities.
✔
Easily add comments, follow-up actions and sales values.
✔
Improve sales and customer support best-practices.
✔
Easily identify lost and/ or missed sales opportunities.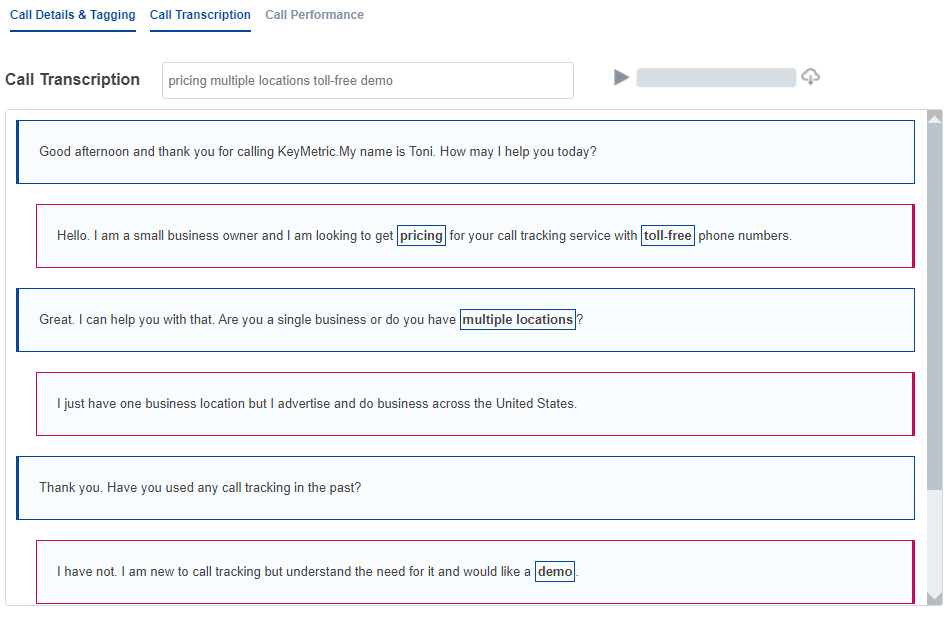 AI-Powered Multi-Language
Call Transcriptions & Intelligence.
Instantly transcribe every phone call and conversation to easily evaluate and assess customer engagements and improve overall business practices, processes and performance.
✔
Gain deeper insight into every call and conversation.
✔
Streamlined conversation analysis and dispositioning.
✔
Advanced keyword spotting and keyphrase search.
Paid Search (PPC) Keyword
Call Tracking & Analysis.
Most marketers waste 50% or more of their Google Ads and Microsoft Advertising budget on keywords that fail to generate calls while not advertising when potential high-value clients are actually searching.

Instantly know which PPC keywords, including matchtype, are driving calls and identify peak search windows for effective dayparting.
360° Visibility with Standard
& Custom Dashboards & Reports.
Eliminate complex, time-consuming analysis cycles with KeyMetric standard and custom reporting. Every report is designed for quick and easy review to help make your decision making as simple as possible.
Select one of our standard reports or build your own custom data set(s) to distribute across your entire team or organization.
We Integrate With
Your Marketing Stack.
KeyMetric seamlessly shares call and lead data with Google Analytics, Google Ads, Bing Ads, Salesforce, DashThis, DOMO, Acquisio, Kenshoo and across your entire Martech stack.

Our GetCalls SOAP API pushes KeyMetric call data to unlimited 3rd-party platforms & reporting systems with minimal coding.
No-Code Dynamic Number
Insertion (DNI) for Websites.
KeyMetric Dynamic Number Insertion (DNI) intelligently inserts unique phone numbers on your website based on referring ad channels, sources, campaigns and PPC keywords.

Our first-party cookie, session-based dynamic call tracking is the most accurate, reliable and scalable solution available.
Multi-Location Call
Forwarding & Management.
Forward inbound calls to unlimited offices, storefronts, franshise locations or remote-based team members. Filter call attribution data and reports by individual locations or territories.

Easily assign user permissions to view all call and conversion data, or data for just a single location.

"We've tried them all & KeyMetric is by far the best call tracking & analytics out there."
Jason B - COO
#1 in Customer Care & Support.
Ask any KeyMetric customer or partner, and they will tell you that no one is better at taking care of them. KeyMetric is consistently voted the #1 customer care, service and support in the industry. Regardless the size of your business or team, we are here to help you succeed at your pace... not ours.

Ask about our 100% hands-off "white-glove" onboarding service and let us setup, configure and implement your call and conversion tracking for you.
 Book a Demo
 Take a Quick Tour
 Get Started
FAQ
What is Call Tracking & Analytics?
Call tracking from KeyMetric is a powerful tool for businesses, marketers and agencies to analyze the performance of various marketing campaigns by tracking which sources, campaigns, and keywords are generating valuable phone calls and conversations.

By tracking, recording and analyzing inbound phone calls, you gain valuable insights into your customers, learn where to best optimize your marketing efforts, and ultimately increase your sales opportunities, revenues and return-on-ad-spend.

Call tracking can also be used to help measure the effectiveness of sale teams and customer support departments to analyze how well they are meeting the needs of your customers.
Can I Use Call Tracking for Online & Offline Marketing?
Yes. For offline marketing campaigns you can simply include unique toll-free or local tracking phone numbers in the content of your advertising to identify which campaigns customers are calling from.

For online campaigns, you can add Dynamic Number Insertion (DNI) to your website to track and attribute calls back to the traffic source, campaign and keyword that delivered the customer.
How Easy is Call Tracking to Setup & Use?
KeyMetric call tracking is extremely easy and quick to setup. You simply sign up for an account online and select which campaigns you would like to assign phone numbers to. Our system does all the heavy lifing. For DNI, you just need to add a line of code to your website or Google Tag Manager.

For customers that need a little extra help, KeyMetric can do your setup and implementation for you.
What types of Businesses use Call Tracking?
Call tracking can help any business, large or small, that rely's on phones calls to close sales, schedule appointments, book service calls, or that is looking to reduce the number of inbound customer support and service calls.

Call tracking and analytics from KeyMetric is used by thousands of business locations around the world including:

✔

Home Services Company's.

✔

Real Estate Agencies.

✔

Healthcare Services.

✔

Auto & Aftermarket Services.

✔

Legal & Financial Services.

✔

HORECA (Hotels, Restaurants, Cafes).

✔

Chain Brands & Franchises.