Real-Time Call Tracking & Customer Engagement Analytics To Supercharge Your Marketing...

(877) 845-7971
It's Time To Unlock The True Potential Of Your Digital, Mobile & Offline Advertising With Real-Time Call Tracking From KeyMetric!
There is a reason why so many businesses across the USA, Canada, Mexico and the entire globe rely on KeyMetric call tracking to maximize their advertising effectiveness.
Whether your business relies on phones calls to close sales, schedule service calls or book appointments - it's invaluable knowing which marketing investments generate calls and customer engagements.

KeyMetric offers secure and reliable call tracking services across the USA, Canada, Mexico and over 60 other countries around the globe.
Make Smarter Marketing Decisions With Real-Time Toll-Free & Local Number Call Tracking & Analytics....
KeyMetric Toll-Free numbers are ideal for regional, national and international businesses whose customers may not be located nearby and toll-free calling will help increase call conversion rates.
888, 877, 866, 855, 844, 800 & Vanity
Numbers Are Available.
Local numbers are perfect for businesses and service providers looking to have an area code that is geographically close to their customers to help increase call conversion rates.
Area Codes Available in the USA, Canada, Mexico and 60+ Countries Around the Globe.
KeyMetric call tracking for Pay-per-Click instantly reports the keywords and ads for every call and customer engagement.
Gain instant access to the data your need to fine-tune bids and focus on the content producing the most cost-effective leads and sales opportunities.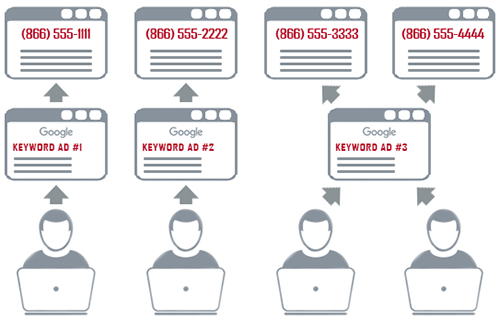 Easily pinpoint the exact PPC keywords and ads that deliver every inbound call across Google Ads, Bing, Yahoo, Baidu and other PPC Networks.
For customers using Google Call Extensions, toll-free & local numbers can be used to capture the campaign, ad group, keyword and ad for every call.
For many of today's businesses, social media ads are the #1 marketing channel.
KeyMetric helps maximize the value of social campaigns by tracking calls and customer engagements generated from Facebook, Twitter, Instagram and all your social media investments.

By adding toll-free or local numbers to your social media advertising you can track calls to measure conversion rates and return on investment; even when they click-through to your website.
KeyMetric INI dynamically inserts unique toll-free or local phone numbers on your website for each visitor based on the referring source, campaign and keyword.

KeyMetric INI is session-based, allowing it to scale infinitly.
Track calls from multiple visitors independently; even if they call at the same time from the same source.
Instantly identify if a call came in as a result of a Google Ads keyword, an affiliate campaign, a Facebook ad or unlimited other sources.
Make Smarter Marketing Decisions With Real-Time Call Tracking & Analytics....

Enterprise-Class Platform & Security

Toll-Free & Local Number Call Tracking

Track Calls & Engagements In Real-Time

Unlimited Sources, Campaigns & Keywords

Intelligent Number Insertion for Websites

Call Routing & Simul-Ring/ After Hours

Call Recording & Call Whisper

Call Notes, Tagging & Scoring

Voice-to-Text Call Transcripts

Text & Email Activity Updates

Share Call Data with Google, Bing & More

Real-Time Third-Party Integrations via API

Standard, Custom & Multi-User Reports

Agency-Level Administration & Billing

Industry-Leading Service & Support
With the KeyMetric API you can seamlessly integrate call and conversion data with nearly unlimited third-party reporting systems.
KeyMetric is the only tool to seamlessly combine real-time call tracking with website and online customer engagement analytics.
Access the power to instantly capture a 360 degree view of when, where and how every customer is engaging with your business.

Phone Calls

Form Submissions

Live Chat Sessions

Media Views & Downloads

Coupon Prints

eCommerce/ Shopping Carts

Many, Many More
Pinpoint which website call to actions are the most engaged, while identifying where to reinvest your marketing dollars to generate the greatest ROI.
Generate Defendable Proof-of-Performance for Every Client Advertising Campaign
You know the true power of your agency. Now prove it with real-time phone call and customer engagement data to effectively measure the performance of every client marketing campaign.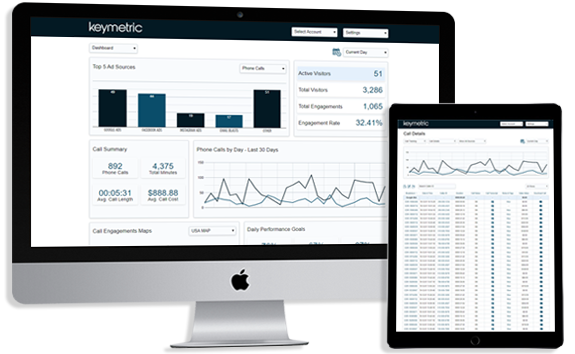 KeyMetric accelerates the ability to determine how visitors are searching for and discovering your client' businesses; and more importantly how they are with engaging them - online and offline.
Intelligently reinvest every marketing dollar in the sources, campaigns and keywords proven to generate more customer engagements, leads and sales while proving just how valuable your agency really is.
Founded in 2008, KeyMetric® delivers secure, reliable and up-to-the-minute intelligence on inbound phone calls, customers engagements and online and offline leads and sales to help maximize marketing and media investments.
With customers ranging from small businesses, to national brands and franchises, to Fortune 500 companies, to many of the top agencies around the globe - KeyMetric is trusted by thousands of business locations to deliver marketing performance data.
Corporate Headquarters
KeyMetric, Inc.
5940 S. Rainbow Blvd.
Las Vegas, NV 89118
Finance (All Payments)
KeyMetric, Inc. ATTN: Finance Dept.
14205 S.E. 36th Street, #100.
Bellevue, WA 98006
General Contact

(877) 845-7971

contact@keymetric.net
Client Engagement & Support

(877) 845-7971

support@keymetric.net